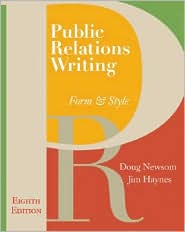 Week 3 reading: Ch. 18 "Brochures"
by Doug Newsom & Jim Haynes
The 18th chapter of the book talks about brochures.
The chapter is interesting because design seems like the last thing that people will think of when the words "public relations" are thrown at them. It's most probably because people do no really understand public relation AND what exactly brochures are. This is what the chapter explains.
'Brochure' is a general term of booklets, fliers, circulars, leaflets, pamphlets, and even tracts. With distinct characteristic to each, they all have something in common: to publicize a message by an organization to the public. That is why, it is important that PR practitioners learn about brochures.
Producing a brochure is an art of integrating words and visuals so that 'the whole is a sum greater than its parts'. There are six important steps of making brochures for publication that were discussed in this chapter:
1. Define the p
urpose of making the brochure.
At first, decide whether your brochure is to persuade, or to inform and educate. Then be spesific. You should be able to reduce the purpose you're aiming, to a simple sentence.
2. Develop an organizing a concept for it.
A concept will help to make sure that the words, visuals, color and space in the brochure coordinated with each other well.
3. Write the content: Giving shape to the information.
Put the brochure into shape only when you are surely certain and certainly sure that the purpose and concept are clear. Avoid exaggeration and vague information. Watch the grammar and accuracy of information.
4. Design the presentation of information.
Be consistent in your style of writing (for example, if you choose to use British spelling, make sure that you do so for the entire brochure). Decide on your tone, whether you want to be cheerful or somber, slow or fast paced, etc.
Using images in a brochure is tricky; only use an image when it can convey a message.
There are many ways to fold a brochure -depends on where the brochure will be distributed- but the basics are the four-page fold, gate fold, accordion fold, and eight- to sixteen-fold.
5. Produce the brochure.
There are three ways to print your brochure: letterpress (traditional printing method), offset (to print large quantity), or gravure (produces highest quality printing).
6. Distribute the brochure.
It is necesarry to decide and know initially where to distribute your brochure. Should you distribute through mailing, make sure the size of the brochure fits the envelope. If you make the digital format of the brochure, make sure the sharpness of color, images, and texts is consisten.
Those are the essential steps of making a brochure in a glance. They are important for PR practitioners as it is one of the most effective ways to reach a wide target audience.